The Hague Convention and International Child Abduction
On 21 July 1988, the US became a signatory to the Hague Convention on the Civil Aspects of International Child Abduction (Hague Convention). The central authority is the Department of State, Office of Children's Issues. The implementation law, known as the International Child Abduction Remedies Act (ICARA) can be found at 42 U.S.C. §§ 11601. An action under the law can be filed in the US District Court or Florida's Circuit Court, Family Division. The Hague Convention is a treaty designed to expedite the return of abducted children to their home countries. Once a child is returned, an appropriate court in that country will issue or affirm a child custody order according to the laws of that nation.
Our firm represents parents whose children have been unlawfully removed to the United States, to foreign nations and to Hague Convention nations. We represent parents with lawful custody who wish to prevent the return of a child to another Hague Convention or non-signatory country. If your child has been lawfully removed to the United States from another Country, we can help prevent the return of the child to that Country and defend against any Hague Application made in the United States which seeks the return of the child.
The Hague Convention is not the exclusive remedy for enforcement of foreign child custody orders. Florida Family Law Rules of Procedure form 12.941(a) also provides a form for a "Verified Motion to Prevent Removal of Minor Children and/or Denial of Passport Services". International remedies under Florida's version of the Uniform Child Custody Jurisdiction and Enforcement Act (UCCJEA) and the Federal Parental Kidnapping Prevention Action (PKPA) are also available.
Our firm also handles many jurisdictional disputes pursuant to the Uniform Child Custody Jurisdiction and Enforcement Act ("UCCJEA").  Thus, if your child has been taken unlawfully to this Country from a State that is not a member of the Hague Convention, or to another State within the United States, we can represent you with the goal of returning your child to his or her home.
Recent Cases
U.S. District Court for the Middle District of Florida
JOHAN SEBASTIAN ALZAT CALIXTO, Petitioner, v. HADYLLE YUSUF LESMES, Respondent.
Case No. 8:17-cv-2100-T-33JSS
ARSALAN TOUFIGHJOU, acting on behalf of infant child, A.R.T., Petitioner, v. RACHEL TRITSCHLER, Respondent.
Case No. 8:16-cv-1709-T-33JSS
Reunification of Father and Daughter
Media Coverage
April 2017, The Docket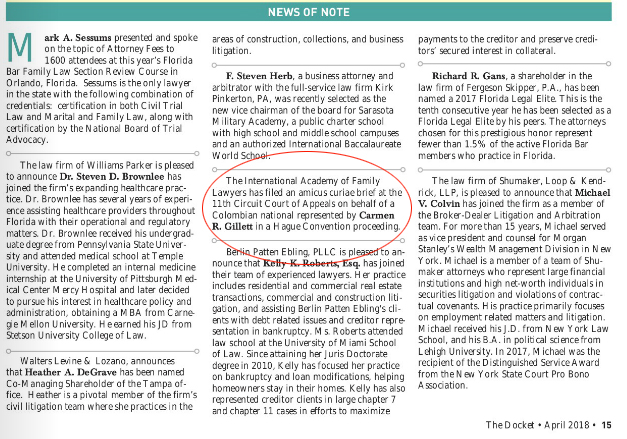 August 2017, The Docket